It's a typical thing to say, the last 14 years have flown by, well not actually.
The same day, 14 years apart, reminiscence
28th January, 2021
5pm: Went to shopping at local Waitrose. My wife very well knows, I can't cook. But during this heightened lockdown, none of the restaurants are also open for sit-in dinner. Her favourite is fish. While walking past the ailse I was wondering, why today, I chose to cook and delight her? Well, I love some risks.
7pm: Started cleaning the fish, marinating, decorating the baking tray. Started visualizing what the outcome will be in few hours time. Never had ever done this before, Roasting a Trout. Our 13 year old son Aryan is my sidekick as always. Helping me pass the salt, spatula, and keeping me encouraged. As my hands were full, he also took the pics. 
9pm: The oven was already pre-heated to 200 degree, and marinated fish goes in. I put the kitchen timer to 30 minutes, and was multitasking to write the blog on the dining table. I could hear her enjoying the conversation with her friends, they must have called her to wish, Happy Anniversary. I am sure they are also asking, what Tarak surprising her with… such a peer pressure.. he he.
10pm:Cooking done. Time to get the table dressed and arranged for the anniversary dinner. I guess she is still on phone. Good for me, she kept herself busy without peeing downstairs in the kitchen. Yes, we have dinner at 10pm, some habit that we are yet to change: "Suncho, dinner is ready, please join in" was the invite.
11pm: She was soo glad to see the full arrangement. Well, her words did make me feel, I did not cook it any bad. Well son was even more overjoyed, as he love fish and more so any roast.
11:30pm: While she volunteered to do the dishes, I sat to finish typing the blog-post. at 11:30pm I finished the draft. guess cooking an anniversary meal, was fun and added some fun and relax time for her. Probably a little pleasure of daily life. I posted the short blog post of my anniversary.
28th January, 2007
5pm: The house is full with guests, the traditional Indian wedding flute music- Shanai, is being played on the loudspeaker, making the neighbourhood aware, that one more batchelor entering the new life. I was a bit nervous about the risks of the new life, as well as excited to see my bride walk the aisle to be my wife.
7pm: Took a herbal shower, and started dressing in the Bengali Dhoti Punjabi, the age-old uniform for tying the nuptial bond. Started thinking of my life-post marriage. Never had ever been taught or told about this before. As I was finding the right balance of the length of the Malkoncha, my 19 year old brother was teasing me, helping me and also taking some photos.
9pm: The barati had reached bride's place. Seated in the floral decorated car, I could see few of my younger cousin brothers were doing their nagin-dance. Uncle came and asked how was pyrogenic show, to which I stretched my neck out to see the sky lit beautifully. Looks nice. By the way, did I budget for it? Who arranged / paid for them? I guess it was a peer pressure to show some light and sound to the girls neighbours.
10pm: The busiest time of the Indian wedding evening. Around 700 wedding invitees are being welcomingly treated with the best of the dinner menu, a selected choice of delicatessen. Guess she is seated in that side of the event ground.
11pm: While all guests were leaving after having a lovely dinner-party-time, it was a the family members only for the wedding ceremony and rituals. We were taken to the beautifully decorated mandap, where the priests were already doing some rituals with both of our parents.
11:30pm: After the holy seven rounds around the marriage mandap, we were socially married. Exchanged the vows, "to feed and protect her for life, stay together in joy and sorrow, health and sickness." The marriage registration officer was there, we signed off on the legal papers too. We are legally wedded too.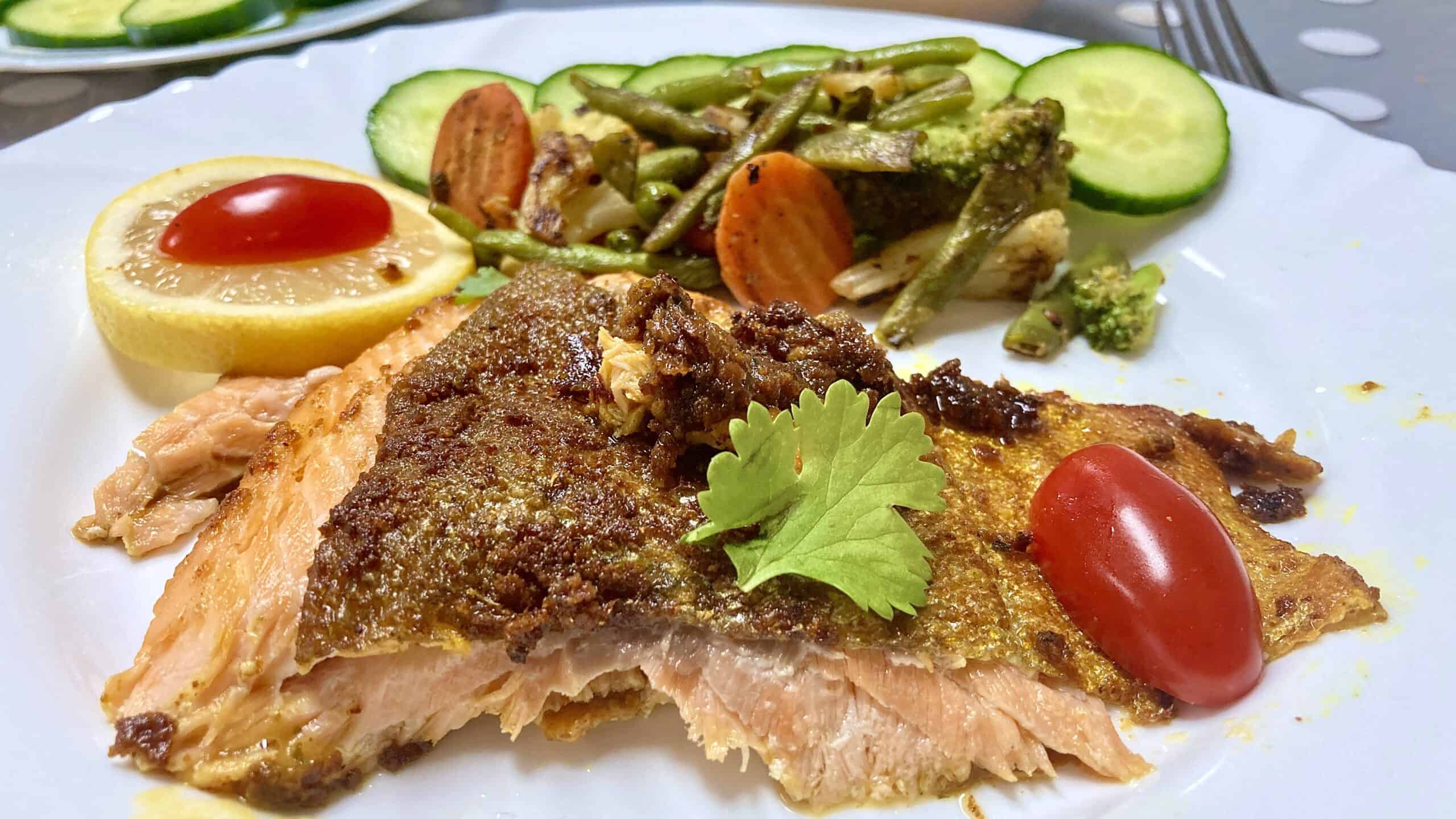 Lockdown Dinner:
Roasted Rainbow Trout With Lemon and Herbs
Serving seafood whole is such a beautiful presentation and has minimal prep. The fish is marinated with spices, stuffed with lemon, onion, garlic and fresh Indian herbs. As it roast, the fish is permeated all the way through with these aromatic ingredients. The cooked fish is really flaky, delicate and juicy. 
01. Fresh Trout
As I was passing the fish counter, I noticed these beautiful whole trout catching my attention. I knew this would be the perfect meal for the night. 
I could whip it up very quickly before she could know, it would be on the table in no time, which is a good thing.
Also, both Piltu ( Aryan) and Piu (Supriya) both love fish,  so this light and aromatic dish was exactly what I needed.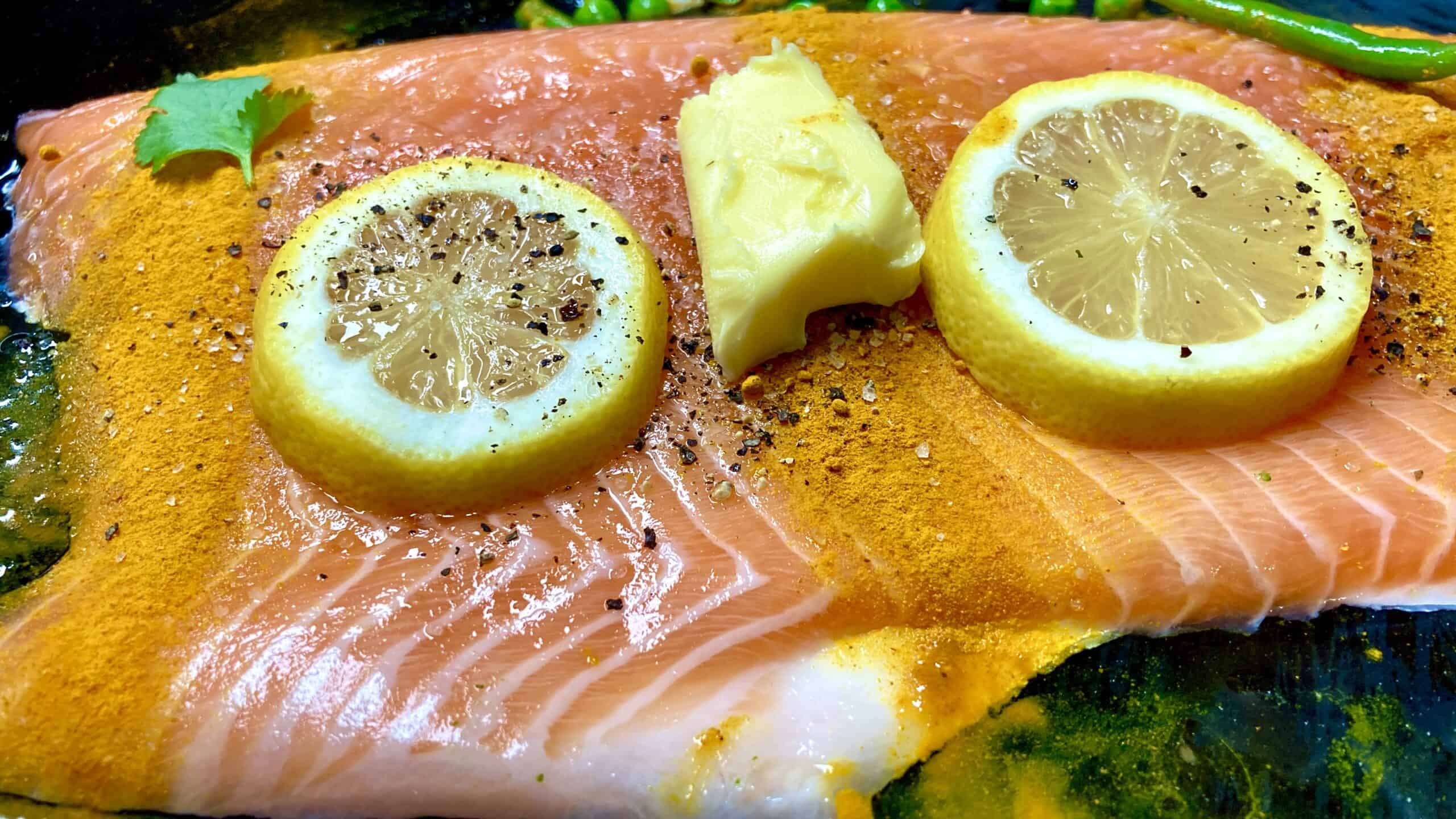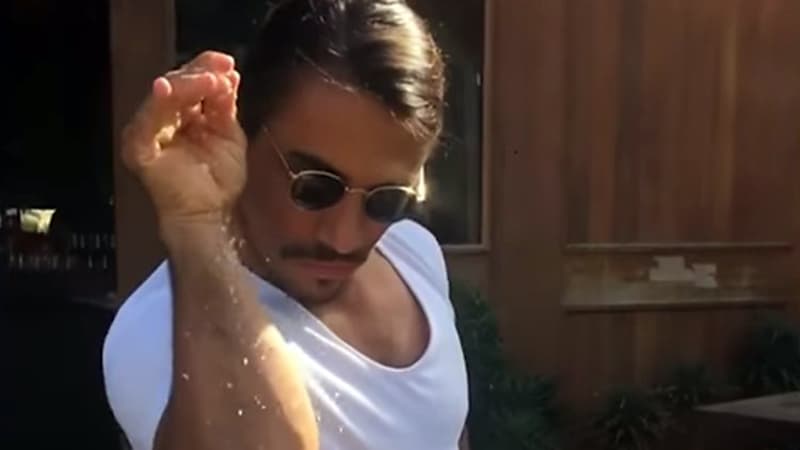 02. Salt Bae
As I and my son were cleaning, chopping, cooking, we opened up a conversation on topic related to cooking. Well, I don't remember I ever helped my mom in the kitchen or saw dad cook. Aryan is much more confident in the kitchen, thanks to his early involvement in the kitchen and also the food-tech classes.
I did a salt-bae-style sprinkling of salt. Amused Aryan checked the you-tube, to learn more about the Turkish chef, who became popular by sprinkling salt.
03. Sides
We both wanted to keep the dinner light, hence the choice of sides were, oven-baked garlic-bread, vegetable-satay-in–olive-oil, cherry-tomatoes, and cucumber. 
The trout was perfectly cooked, it was juicy and tender and is permeated all the way through with the aromatic essence of herbs, lemons, garlic and onions. Served simply with olive oil and freshly squeezed lemon juice, She said, "it made my tastebuds sing".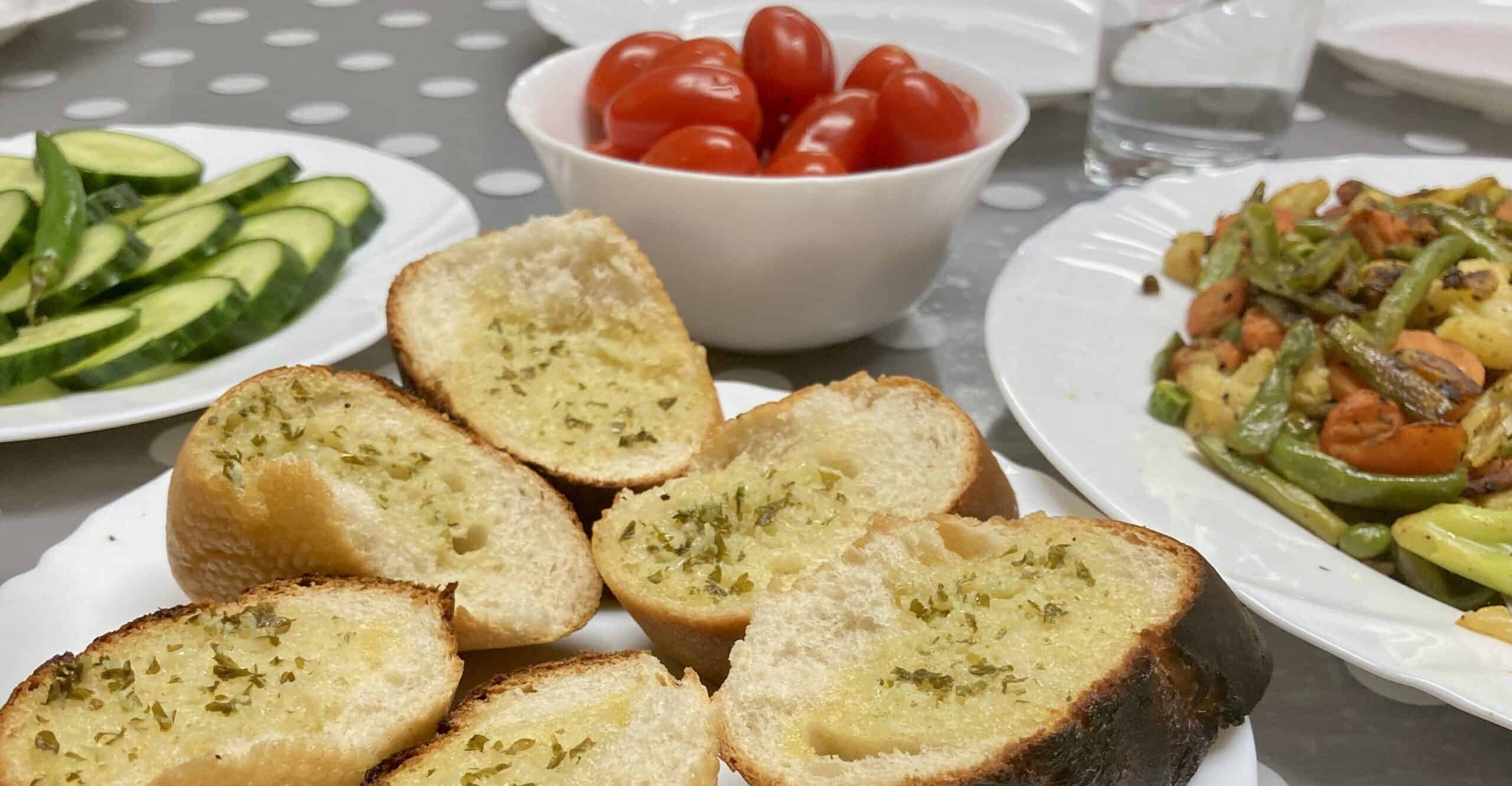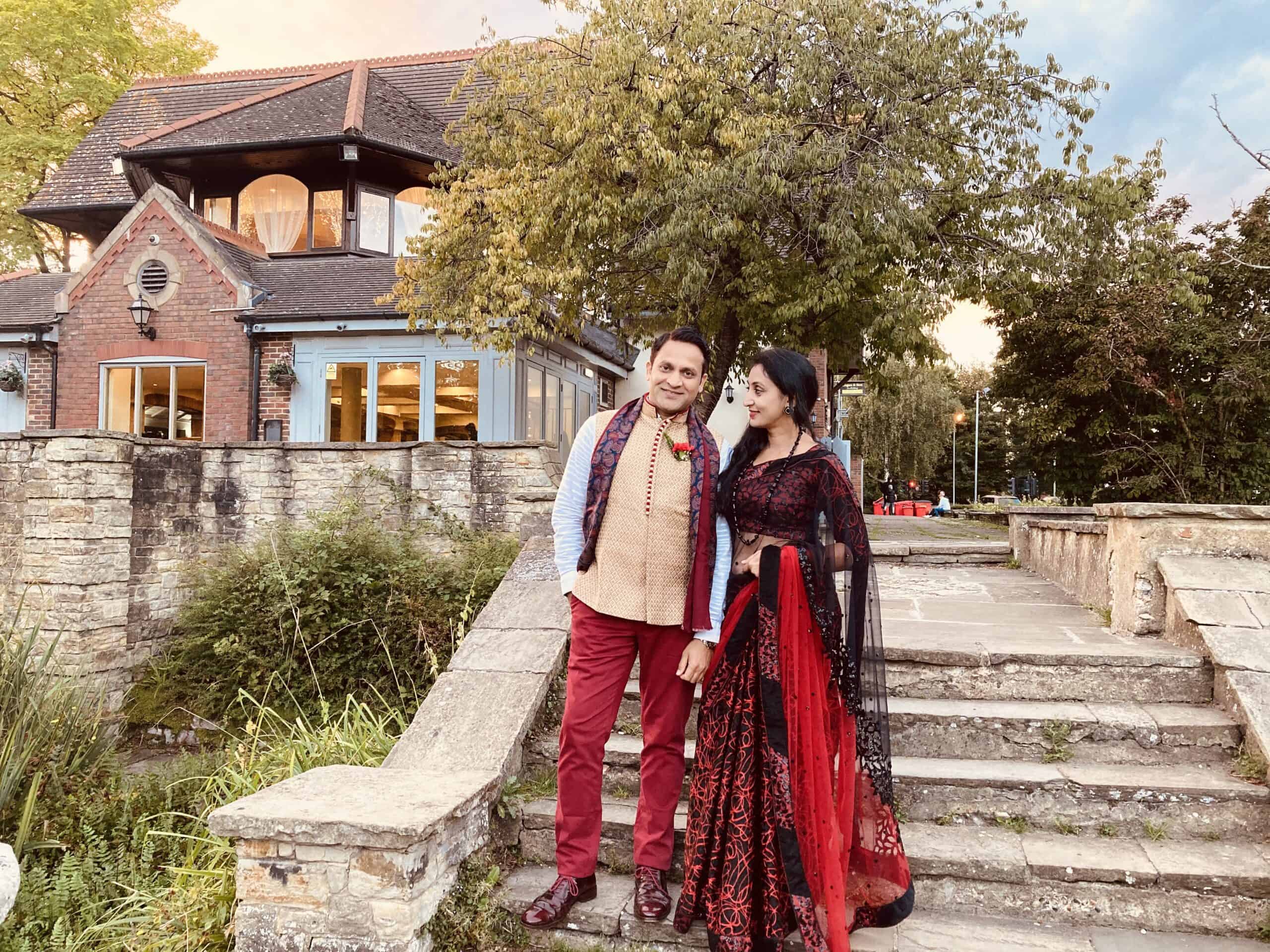 We completed 14 years of conjugal life.. Supriya, Wish you a very Happy Anniversary… It's been few years on a long journey called life.
The above picture is from the later part of 2020, during the brief relaxation of lockdown rules.