I CHOSE TO CONTEST THE ELECTION

 
To contribute to the Global Community of 20,000 Students and test my Public Leadership
Though I come from the Indian state of West Bengal, a hot-bed for Student Politics, Debates, Culture, Liberalism and Nobels Laureates, I never chose to subscribe to Student Union. But Oxford was different.
Less than a month, I have been matriculated (contrary to the popular meaning, the term refers to a formal ceremony to officially induct into Oxford). Oxford University Student Union representatives were helping us during matriculation.
As I drove past the Worcester St, home of Oxford University Student Union, to my business school in Park Street, I found a large student's protest march. Banner was drawn to bring Universities attention to the mental health of the students. As a mature student, indeed there was quite a mental balance to be maintained during this academic rigour along with my young family, job and social commitments. I decided to actively engage with the Student Community.
DEBUT PUBLIC LEADERSHIP
Once I reached home, I visited the web-site of the OUSU (the name of the Student's Union then) a strong urge to lead the organisation and get meaningfully engaged made me apply for Student Trustee position. Never ever had I planned to actively engage in student politics or public leadership. One thing leads to the other, and then came the Hustings. I had to meet and understand the mood the student community, their demands, expectation from the Oxford University Student Union.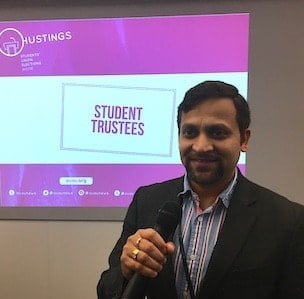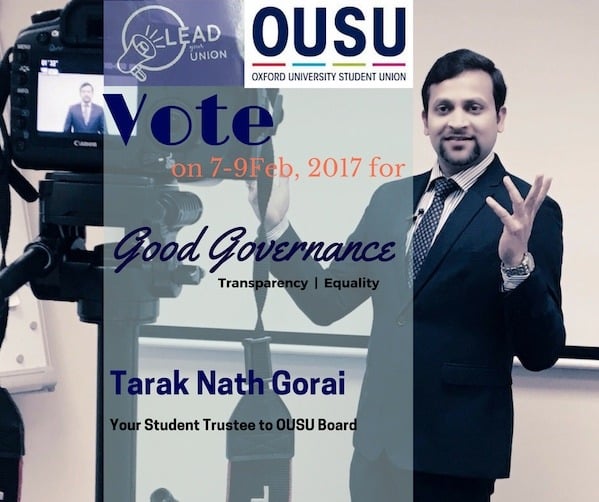 I knew winning the hearts of a young ( mostly undergrads), large and diverse community with limited resources and in such a short time is a challenging proposition. I was even limited with my time to network across other departments and being non-resident in the campus, the reach was further limited. Hence I looked for a digital campaign.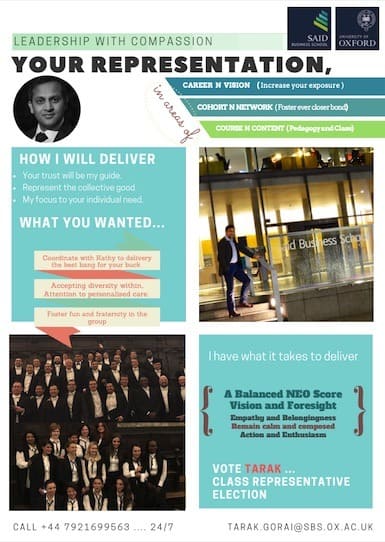 I launched a well-planned social and digital campaign to reach every student laptop screen, in MCR and JCR and college canteen and discussions. A combination of Video, Email campaign, Facebook posts and personal calls …over a 15 day period, resulted in me winning the tough competition against incumbents and new candidates.
I launched a fierce campaign using the most popular platform among students, Facebook. Segmented the students, created target messages and spent campaign money into Facebook ads, rather a personal meeting across the college. I met key and select students to gauge the mood of the university.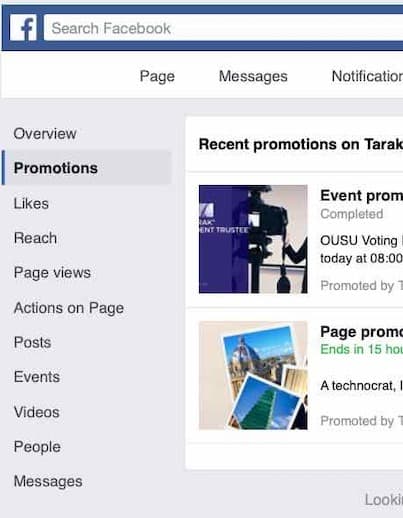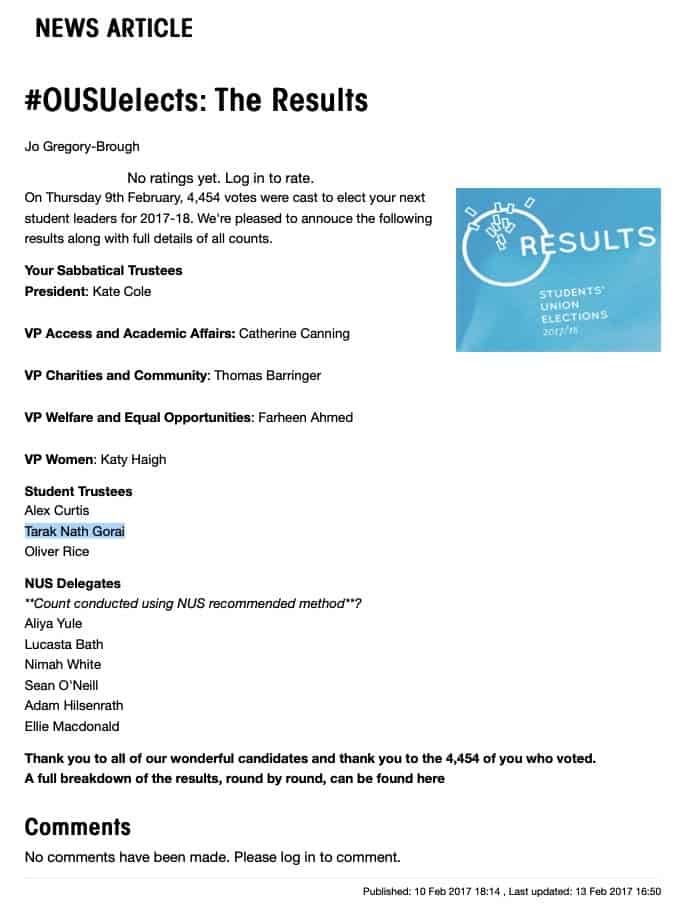 The Clear Mandate: Tarak for Trustee
The results were announced at the packed Pub. I received a clear mandate from the students of the University of Oxford.
As I took the position of the Student Trustee, a huge sense of responsibility was transferred. Being the legal custodian of the Oxford University Student Union, its reputation at stake. I got into the task of understanding the organisation before taking action and bring change.
Impact During TrusteeShip
During this one year of my fulfilling role as the Student Trustee, along with the sabbatical team, the Oxford University Student Union I oversaw major changes:
Successful Freshers week and Career week
Rebranding of OUSU to make it more relevant to the purpose
OUSU moved to a new building with improved interior
A significant debate on Fund release for Student Activity
An year without getting embroiled in any legal issues